R&G Radiator Guard for Yamaha MT-09 ABS '17- (FZ-09), XSR900 '17-, Tracer 900 '15- (FJ-07), Tracer 900GT '18-
Description
Highlight
Yamaha MT-09 (FZ-09) (2017)
Yamaha MT-09 (FZ-09) (2018)
Yamaha MT-09 (FZ-09) (2019)
Yamaha MT-09 (FZ-09) (2020)
Yamaha MT-09 SP (2019)
Yamaha MT-09 Tracer (FJ-09) (2015)
Yamaha MT-09 Tracer (FJ-09) (2016)
Yamaha MT-09 Tracer (FJ-09) (2017)
Yamaha MT-09 Tracer (FJ-09) (2018)
Yamaha Tracer 900 GT (2018)
Yamaha Tracer 900 GT (2019)
Yamaha Tracer 900 GT (2020)
Radiator Guard for Yamaha MT-09 ABS '17- (FZ-09), XSR900 '17-, Tracer 900 '15- (FJ-07), Tracer 900GT '18- (RAD0226)
This R&G Radiator Guard is available in black or titanium to fit the Yamaha MT-09 ABS '17-, XSR900 '17-, Tracer 900 '15-, Tracer 900GT '18- (FZ-09) model protecting the radiator guard from damage from road debris.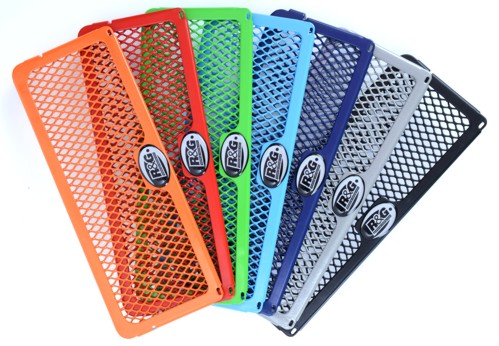 R&G Radiator Guards are now available in a range of new exciting colour options (please note, not all colour options are available for all R&G Radiator Guard applications).
Made from pressed aluminium and feature a neat, seamless frame (where applicable). They improve the looks of your bike and help to protect your expensive and vulnerable radiator from flying debris. No permanent modifications need to be made to the bike.
Product Details
---
Colour: Black or Titanium
Product Code: RAD0226BK (Black) / RAD0226TI (Titanium)
Fitting Difficulty (1-5): 2 - Fairly Easy
Fitting Time: 30 minutes

https://assets3.rg-racing.com/Images/files/Fitting-Instructions/Radiator%20Guard%20Aluminium/RAD0226-fitting-instructions-YAMAHA-MT-09-2017--MT-09-TRACER-2015-XSR900-2016-.pdf
Reviews (0)
view all
back